Current and Former Ruddle Clients
AAG Property Improvement

Abbott, Stringham & Lynch CPAs

Advanced Micro Devices (AMD)

Alexian Brothers Hospital (now Regional Medical Center)

All Stars Helping Kids

Amati Corporation

American Technical

American Peptide

Annual Reviews

Answer Systems Software

Applied Materials

ARIS

Arts Reach

The Association of California Symphony Orchestras (ACSO)

AT&T

The Auto Clinic

The Bank Marketing Association

The Best Western Seven Seas

The Biltmore Hotel (Santa Clara)

Blackstone Hathaway

Bread of Life Food Store

The Bristol Hotel San Diego

Businesses United for Students (BUS)

Cal-Hellas

Calpine Energy Corp.

Camino Healthcare Foundation

Camino Medical Group

The Campbell Inn

Cardiff Hotels

Center for International Trade Development

Changeworks Consulting

Child Development Centers

The Chorus of Westerley

CHW-Bay Area

CHW-O'Connor Hospital

Cisco Systems

Coherent Medical Equipment

Comerica Bank-California

Community Services Agency of Mountain View, Los Altos and Los Altos Hills

Computer Curriculum Corporation

Concise Contact Lens

Cozart HR Consulting

The Creekside Inn

Crippled Children's Society

Critchfield Mechanical

Cupertino Electric

DANCO

DanWire

Deer Valley Center

DESIGNet

Devcon Construction

The Diabetes Society

DICAR Networks

DJA Construction

East Hills Elementary School

Elcon

Elma Electronics

Emmanuel Equipment

Enterpise Investments

EquiCo

Fairfield Inn & Suites

First Capital Bank

First Unitarian Church of San Jose

Frannet

Fremont Symphony

Frontier Bank

Garden Court Hotel

Girl Scouts of Santa Clara County

GMG Distributors

Good Samaritan Hospital

Goodwill Industries

GREEN

Greystone Hotels

The Harker School

Hewlett-Packard

The Hotel Griffon

HP Credit Union

HRMS Group

The Humane Society of Santa Clara County

Huntington Labs

ICOT

The Inn at Union Square

Jan-Pro Janitorial

JDA Healthcare Consulting

JDR Computers

The King George Hotel

KLA-Tencor

LAM Research

LeBoulanger Bakeries

Lennar Homes

Marcus & Millichap

Marketshare Builder's Signage

McCutchan Mailing

MCD/Kencom

Mecon Medical Consulting

Menlo Park, City of

Multimedia Training

National Conference of Christians and Jews

Nationwide Floor & Window

Navica

NOA Oncology Consulting

Nonprofit Development Center

NOVA Career Counseling

Oncology Metrics

Oncology Therapeutics Network (OTN)

Open Heart Kitchen

Open Solutions Alliance

OUTREACH

OW2 Software Association

Palo Alto Medical Center

Photronics

Professional Coaches and Mentors Association (PCMA)

The Pruneyard Inn

Quadbase Software

Quail Hollow Elementary School

Quick Logic

Restaurant Hotel Research

Rockwell Federal Credit Union

Ross Stores

Rudolph & Sletten Construction

San Disk

San Jose First Methodist Church

San Jose Medical Center

San Jose Printing & Mailing

San Jose Repertory Theatre

San Jose Sports Hall of Fame

San Jose State Alumni Association

San Jose Symphony Orchestra

The Santa Clara County Hotel Association

Second Harvest Food Bank of Santa Clara and San Mateo Counties

Selectron Manufacturing

SEMI

Silicon Valley ESD Society

Silicon Valley Small Business Development Center

SJ Amoroso Construction

SMART Memory Systems

Sonitrol Security

Spaulding Communications

St. Matthew's Music Guild

Sub-Acute Hospital

Sunnyvale Chamber of Commerce

Sunnyvale Medical Center

Sunnyvale Town Center

TAB Products

Tabard Theatre Company

Take Charge Financial

Third Street Community Center

The Vacation Store

The Warwick Regis Hotel

WBE Electric

Western Micro Technology

Wintle & Kane

Xilinx

Zenex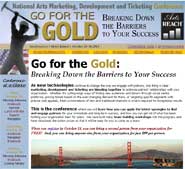 Creative Services
Henry Ruddle writes, designs, produces, prints and/or posts newsletters, direct mail, brochures, websites, identity systems, fliers, advertisements, presentations, press releases and speeches for a wide range of clients -- profit, nonprofit, not-as-profit-as-they-wanna-be, large, medium, and small. Our fees are middle-of-the-market and extremely reliable. We use flat rates such as "by the page" so that our clients do not have to watch the clock or suffer the shock of surprise from our invoices.
PRICE LIST: Turnkey or On-going Projects

All prices based on standard 8.5"x11" page size.

Printed newsletters, brochures, ads, postcards, etc.

Online newsletters, blogs, e-blasts, banner ads, websites, etc.

Level A (concept/article development, research*, 100% writing/editing, premium layout, manipulation of stock or provided images, standard photography, final art, PDF)

first page $600
subsequent
pages $400

first page $500
subsequent
pages $300


Level B (help with concept/article development and research*, 33-67% writing/editing, standard layout, manipulation of stock or provided images, final art, PDF)

first page $400
subsequent
pages $250

first page $325
subsequent
pages $250


Level C (editing, rewriting and proofreading of provided materials; standard layout; manipulation of stock or provided images; final art; PDF)

first page $300
subsequent
pages $200

first page $250
subsequent
pages $150


Level D (proofreading, basic layout, manipulation of provided images, final art, PDF)

first page $200
subsequent
pages $125

first page $200
subsequent
pages $100

Template & Training (Level A service provided in tandem with staff training to design and produce one finished edition to use as template in software of choice, and customized production manual)

first page $800
subsequent
pages $600

first page $800
subsequent
pages $600

Reimplementation in HTML (final PDF versions of print projects provided at no cost)

$50/page

n/a

PRICE LIST: Ala Carte Services

| | | | | |
| --- | --- | --- | --- | --- |
| Original Writing | $150/page | | Identity/Template Design | $500 |
| Research/Interviewing | $75/page | | Premium Layout/Page Design | $250/page |
| Rewriting/Editing of Provided Materials | $100/page | | Standard Layout | $150/page |
| Proofreading of Provided Materials | $25/page | | Basic Layout | $75/page |
| Manual Input (aka typing) | $25/page | | Standard Digital Photography | |

FREQUENCY DISCOUNTS
(credited every 4 editions)


STANDARD DISCOUNTS
(credited on each project)


Quarterly frequency (4x/year)

10%

Non-profit organization (non-members of Arts Reach)

15%

Bimonthly frequency (6x/year)

15%

Arts Reach members
Monthly frequency (12x/year)

20%

Monthly retainer/annual agreement

10%

Semimonthly frequency (24x/year)

35%

Low effort / no change pages (e.g., contact listings, advertising pages with art provided, mailing panel)
Weekly frequency (52x/year)

40%
NOTE: When a new "look and feel" is required, we charge a one-time additional creative fee of $300 to $800 to develop one. The fee depends on the number and complexity of initial design concepts required to review and refine into the final branding and/or template.
*Research/writing -- for most writing projects, we interview 1-2 primary sources and otherwise rely on secondary sources for information. If more extensive research is required, an additional fee may apply.
| | |
| --- | --- |
| Once we establish a rate with a client, we stick with it for at least a year before we review it. With the exception of a handful of extraordinary situations in the past 20 years, what we quote is what we bill. Since we have a continuing relationship with clients, our philosophy is that for every project that runs way over our time budget, there will be another project that gets done under budget. | Download PDF |
---
Hire Henry Ruddle as Your Part-Time Marketing Communications Manager
Many companies need a Marketing Communications Manager to create and/or sustain their branding, create marketing and sales materials, manage their website, place ads, send out and follow up on press releases, produce presentations, write speeches and coordinate events, but they can't justify the expense of hiring a full-time position. As a result, the critical marketing communications work either overloads other team members, costs an arm and leg being farmed out to contractors and agencies, or it just doesn't get done at all. If that situation sounds familiar, hire Henry Ruddle as your part-time Marketing Communications Manager. Henry has:
1) Managed Ruddle Creative, a small marketing communications agency, from 1988-2010.
2) Filled-in on an interim and part-time basis as Marketing Communications Manager for many clients.
3) Written and designed thousands of brochures, newsletters, websites, fliers, mailers, presentations, speeches, press releases and packages.
What makes Henry Ruddle different from any other writing or design contractor?
Henry is one of the rare writers and designers with experience managing budgets, projects and people. He takes an "owner's view" of every project, and looks for the best way to build the market and attract potential sales with the most appropriate (usually the smallest, but not always) investment of time and resources.
How much will it cost?
Henry offers competitive hourly rates and flexibility. He will work on site and/or from his office as needed. Whether you need a regular presence in the office and at meetings every week, or the need is more sporadic, Henry will work with you on the most cost-effective plan with the greatest potential for success.
---
Terms and Conditions
Progress Billing.
If a project is placed on "hold" or if the expected completion date is postponed more than 14 days beyond the originally planned completion date, we may choose to invoice client for the work completed as of that date.

Confidentiality.
Any and all information we acquire while producing a publication, especially information identified as "confidential," is kept in a single work folder and is shown to and/or discussed with only those within a client organization authorized to do so. When clients are in direct competition with each other, different account representatives are assigned to those clients to avoid any possibility of accidental breach of confidentiality.

Copyrights.
Ruddle Consulting retains title to and possession of all artwork unless otherwise agreed. Once Ruddle Consulting has received payment for work performed and expenses incurred, the copyright passes to the client, who may freely modify or reproduce the work. The general practice of including "Produced by Ruddle Consulting www.ruddle.com" in the masthead of publications does not affect these rights.

Page Rate Review.
Page rates do not change so long as project requirements stay the same (reviewed job-by-job and annually). When page rates have been quoted with discounts for anticipated frequency, actual billed rates will depend on actual frequency.

Rush Fees.
We assess rush fees very rarely. Nevertheless, clients should be aware of the possibility that a rush fee may be required if an unanticipated or unusual request forces us to delay work on another project. Advance notice will be given.

Printing.
Ruddle Consulting acts as a liaison with the printing and mailing vendors used by clients. We no longer broker printing and mailing services.

Style.
Unless specifically instructed to ignore them, we rely on the Random House Dictionary of the English Language and the Associated Press Style Manual as the final arbiters of all style, usage, punctuation, spelling and grammar questions.

Layout/Design.
Actual page layout will not begin on any project until all content has been created and approved. However, publication design, illustration, photography and, where appropriate, ad layout/approval will take place in advance of page layout.

Proof responsibility.
Once a client has signed off on a final proof, that client has accepted responsibility for the photographs, articles, design and layout, as well as whatever instructions regarding ink colors, paper, quantity, bindery and delivery have been indicated. We strive for high-quality, accurate publications and submit every publication to multiple quality checks and proofing rounds internally. However, these efforts are not a guarantee. The final responsibility for the end product belongs to the client.

Samples.
Ruddle Consulting. will retain 5-10 samples of your publication for our own marketing purposes. Unless prohibited specifically or because of confidentiality issues, we may distribute samples or provide client names as references to prospective clients.